The annual Forest of Mystery fundraising event to benefit BEEC:
In 2017
The Groovetastic Tale of the Phantom of the Forest
Was great fun!
Thank you to the fabulous writing and directing team, James and Jessica Gelter, and to the very talented and dedicated cast. We can't wait to see what they come up with this year!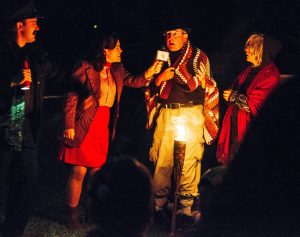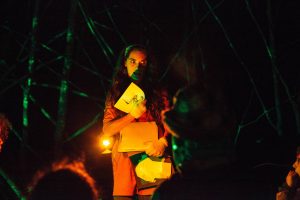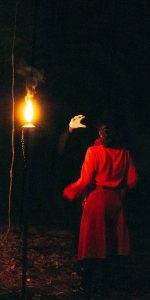 The year is 1970 and the small town of Cooperdalefield is spooked! Everyone in town knows the local Nighthill Woods have long been haunted by a mysterious phantom, even if no one's ever actually seen it. The Sunshine Corporation thinks it's time to tear the old woods down, and the local flower-power set are camping in the woods to protest. But when the Phantom suddenly begins to appear, terror is struck into the heart of hippie and businessman alike. Is the Phantom real? If not, who is it? Why appear now? It's up to four teenagers, their dog, and YOU to figure it out, in…
The Forest of Mystery takes place each year in the Halloween Season with the aid of a group of talented community actors, dancers, and musicians, as well as inventive costume and set designers. This interactive theatrical performance takes place in scenes staged along BEEC's beautiful candle-lit trails through forest and meadow.  The performance is recommended for ages 6 and older.
Be part of the fun!  Learn how you can be involved HERE!
Questions?  Email or call 802-257-5785.