BEEC's professional development classes are hands-on, comprehensive, and are aligned with NGSS. Classes are taught by Joan Carey, and can be scheduled by districts, individual schools or teams of teachers. Currently scheduled classes are listed below. Contact with general inquiries and to request a class.
Earth's Systems ~ April 6, 2018
Aligned with NGSS 5th Grade Earth Science

Can Earth's systems operate independently of each other? And, how do these systems inform life on our planet? Building on their fourth grade study of Earth's Forces, fifth graders are well prepared to tackle these intriguing questions. They will do so by addressing smaller investigable questions that require them to use both math and literacy skills to understand, evaluate and debate the roles of the Earth's systems, and the impacts that humans have on this delicate balance. This unit meets NGSS performance expectations for earth sciences in 5th grade (5-ESS2-1, 5-ESS2-2, 5-ESS3-1.), and includes a diversity of engaging activities, lessons and suggestions for outdoor adventures to experience some of these interactions first hand.
*****
In Bloom in Vermont: Promising Practices in Nature-based Early Childhood Education
Conference hosted by Antioch University New England Saturday May 19th, 9am – 4pm at Academy School, Brattleboro
Keynote speakers: Martin Besford and Amy Butler
Two sessions of concurrent workshops, bringing together a diverse array of early childhood professionals, higher education faculty, environmental educators, mindfulness practitioners and naturalists.
Featuring an afternoon workshop with BEEC's environmental educator Joan Carey: Vernal Pool Party.  Join Joan for a foray into the wild woods of Heifer Hill to explore a vernal pool and meet the inhabitants who call this place home for a few months every year. This workshop will provide you with the opportunity to get your hands wet and your feet muddy as you challenge yourself to be the learner. Step into the role of the novice naturalist and experience the joy of unexpected encounters.
*****
BEEC is proud to announce that it is now an official professional development partner with Vermont Afterschool, Inc. We will be working with trainers across the state to implement Environmental Literacy in Action!, a workshop to help professional afterschool leaders understand the scope of environmental literacy and find statewide partners for bringing environmental programs to youth. In addition, a new suite of four environmental literacy trainings are nearing completion to support direct service staff who want to get kids outdoors after school and in summer. Each workshop will be packed with easy to implement hands-on/minds-on activities aligned with Vermont's four seasons.
What Teachers have to Say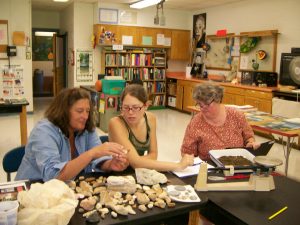 "This was an excellent workshop. I appreciate how well thought out not only the lessons were by the sequencing of them as well."
"This workshop will change my teaching. It will move beyond appreciation of habitat and exploration at an introductory level. Now more time will be given to this unit to include a broader range of scientific thinking skills: designing single variable experiments, and use of observations and data collecting to draw deeper conclusions."