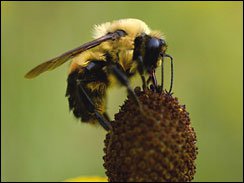 Bonnyvale Environmental Education Center is collaborating with Southern Vermont Natural History Museum, Hildene- The Lincoln Family Home, The Nature Museum at Grafton, and One World Conservation Center to form the Pollinator Awareness Initiative.  Our goal is to inform our citizenry about Vermont's  pollinators, the major threats they face, and our role in conserving their populations and productivity.
Find more information about pollinators, chemical-free gardening, and other resources here! 
Are you an individual or organization interested in partnering with us or presenting a  program?  Contact us to find out how we can work together!