Birds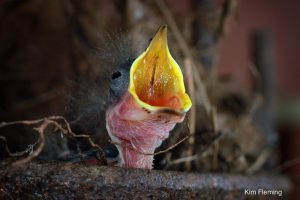 Most species of birds, especially small birds, grow up very quickly—from hatching to fledging within a couple of weeks. They are not usually capable fliers when they first leave the nest, and may spend a couple of weeks fluttering and hopping while their parents continue to feed them.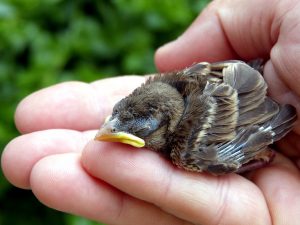 Watch. Energetic active birds are probably fine. The bird pictured here is too young to hop or flutter, and its feathers have not grown enough. Such birds can often be re-nested, even if you can't find or reach the original nest. Call for advice!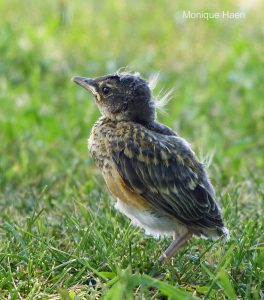 Just-fledged birds might have very stubby tails and wing feathers that have not fully emerged. The bird pictured here is a fledgling.
If you notice fledglings on the ground, do what you can to make sure neighborhood cats stay indoors.
Mammals
SIGNS THAT AN ANIMAL NEEDS HELP: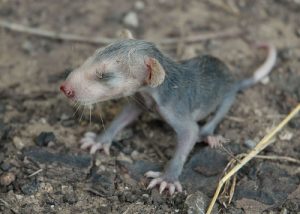 Crying
Weak, or listless
Obvious injuries
Hit by a car
Shivering
Cool to the touch
Caught by a cat or other predator
Near a dead female that appears to have been nursing young
Attracting flies
If you see a baby that is too small and helpless to be out of a nest or den, watch from afar to see if a parent comes for it.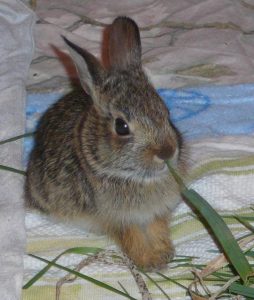 YOUNG THAT ARE USUALLY UNATTENDED:
White-tailed deer fawns
Cottontail rabbits
Snowshoe hare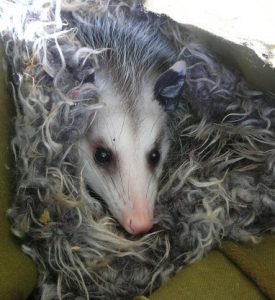 YOUNG THAT SELDOM WANDER
WITHOUT MOTHER: