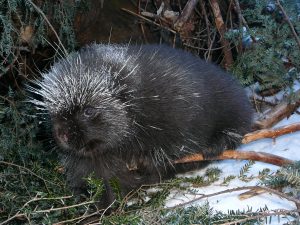 Life for for wild animals is always dangerous, but humans have introduced a whole new set of hazards—cars, cats, window panes, swimming pools. . . As a result you might encounter an animal in need of assistance, and need some assistance yourself.
Please call BEEC at 257-5785 (after hours and weekends, call 254-2918) if you find a wild animal that seems to need help. We can help you evaluate the situation to determine what, if anything, should be done. You can also e-mail .
BEEC naturalist Patti Smith is a wildlife rehabilitator, licensed by the Vermont Department of Fish & Wildlife to treat many species of injured and orphaned mammals.  She can also help you find wildlife rehabilitators who are qualified to treat other animals that need care.
Are you wondering if a young animal you have found needs help? Here are some tips.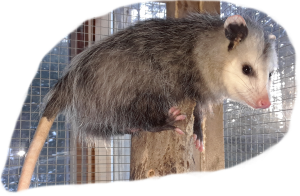 2018
The cold start to the winter of 2018 has brought a small influx of opossums. The first, a very small female, was found by the side of a road too thin and weak to move. The next day a large male was found in a farmyard with the end of his tail lost to frostbite, and very skinny. On day three, another small female was bought in after she was attacked by dogs. She appears to be uninjured, but like the others, is just fluff and bones. They are receiving a carefully balanced diet and we hope that soon they will be as fat and happy as the possum pictured here, another little female that was found on a porch in November, born much too late to survive a Vermont winter. We hope that all of them will be ready for release in the spring so they can get on with the important business of being possums.
Ursula the Porcupine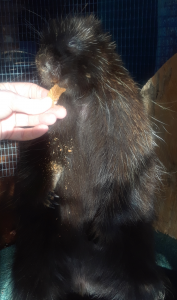 was living under an apple tree in a backyard in Norwich for a couple of weeks unable to climb or walk far. While she has recovered her health, she still has some neurological impairment. She can't use her front paws to hold her food, as porcupines usually do, so needs someone to hold her cookies for her. We hope this trusting beast will make a full recovery.
Here are pictures of some of the many orphans that were raised and released in 2017: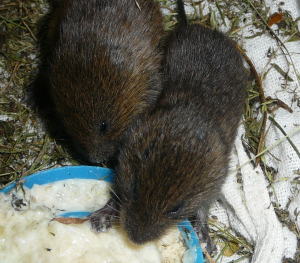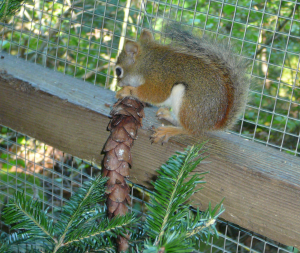 Some successful rescues from 2016: